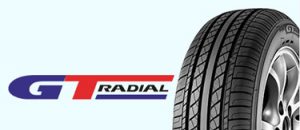 GT Radial tyres are currently our Star Buy. These are great mid-range tyres that offer performance without the price tag. What's more, they're currently available with a lifetime warranty against accidental damage.
GT Radial — the unknown tyre giants.
Most UK motorists aren't that familiar with the GT Radial brand. And that's a surprise, because the company is one of the largest tyre manufacturers in the world, rivalling many of the better-known brands. Based in Singapore, Giti Tire (who own GT Radial) export to 130 countries from eight plants in Asia. A ninth plant is under development in the USA.
They're not a newcomer to the markets, either: Giti was founded way back in 1951. Today, the company has extensive R&D facilities and manufactures an extensive product range for all sorts of vehicles, including cars, buses, and heavy lorries.
GT Radial — why they're our star buy.
We blogged recently that mid-range tyres can be a great option for many drivers. They can offer durability and robust performance without the expense of some of the premium brands. GT Radials are an excellent example of a solid mid-range tyre.
On review sites such as Openeo and Tyre Reviews, GT Radials are highly rated by users. That confirms our own impression that GT Radial are tyres that punch well above their weight.
Free accidental damage warranty
In addition to the GT Radial's performance and competitive price, there's the not-so-small matter of the warranty. Our whole GT Radial range currently comes with a free lifetime warranty against accidental damage (contact us for details). And when you consider the amount of damage caused by our chronically potholed roads, that's a really worthwhile offer.
Putting all that together, we think that GT Radials are a terrific deal, and we had to make them our star buy!
Our full GT Radial range
If you're in the market for new tyres, our star buy could be right for you. Follow the link to see our full GT Radial range, or get in touch for recommendations.