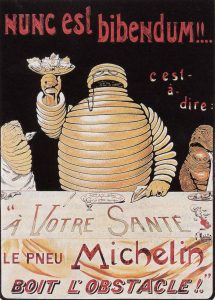 BK Tyres  supply around 600 different Michelin tyres, one of the world's most enduring and famous brands. In this post, we'll take a peek at the company behind the iconic Michelin Man.
Company statistics
Founded in 1889, Michelin currently employs around 109,000 people. The company has marketing operations in over 170 countries and production facilities in nineteen. With net sales of nearly 15 billion euros, Michelin commands 16.3% of the global market and produce over 150 million tyres a year. In short, Michelin really is a giant in the tyre world.
Sustainability and Michelin
Increasingly, when consumers buy a product, they want to know about a company's environmental track record. And with regard to this, Michelin is part of the World Business Council for Sustainable Development, an innovative initiative working for a greener and more sustainable future. They were also contributors to the Sustainable Mobility Project, whose goals included:
Reducing Greenhouse Gas (GHG) emissions from transport to sustainable level
Reducing significantly the number of transport-related deaths and injuries worldwide
 Narrowing the mobility divide between the richest and poorest countries
In the UK, Michelin's Dundee facility was their first factory in the world to make use of wind energy, reducing its environmental impact.
Michelin and Economic Development
Michelin is a major employer in several locations in the UK. But the company also supports local initiatives and businesses. Michelin Development provides both loans and professional advice for small local businesses, aiming to regenerate local business communities.
Michelin and Tax
At a time when major corporations have used every trick in the book to avoid paying tax, Michelin's mission statement on tax makes for refreshing reading. For example, they promise to interpret taxes with "both the spirit and intention of the law" and "will not undertake transactions wholly motivated by tax avoidance or from which there is no economic benefit to the Company other than tax savings."
Proud to offer Michelin Tyres
The more we look at Michelin, the more we see a huge company with a human heart. In our opinion, quite apart from the range and quality of their products, choosing a Michelin tyre supports a company that takes its responsibilities seriously.
Take a look at our range of Michelin tyres, or get in touch for advice.