We're sure there are some great tyre fitters in South Oxfordshire, but if you ask us to pick one out as the best… well, of course we're going to say it's us!
So with full props to our respected competition, here are a few reasons why we reckon BK Tyres is the no. 1 choice for your tyre needs.
1. We come to you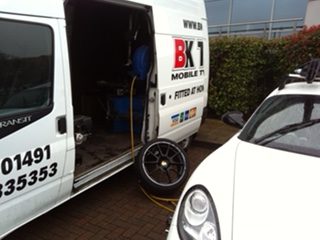 BK Tyres operates a fully mobile service that takes care of your tyres at your home or workplace.
That means no more sitting in a garage waiting room drinking horrible coffee and reading the tyre safety posters while you wait.
And we won't mention battling through traffic to get there…oops we just did! But seriously, in a bigger town like Abingdon, at the wrong time of day, getting anywhere can be a pain. Which is why we do that for you.
2. Stellar customer reviews
We do take pride in providing a polite, professional service, and if you scroll down on our home page, you'll find our genuine customer reviews confirming that. There are around 180 people saying positive things about us, stretching back over ten years. And as not everyone wants their review to appear on our site (fair enough), we've had plenty more than that.
Still need convincing? Take a look at our Google reviews, where we currently hold a 5.0 rating. Why not check out our Facebook reviews too?
3. Competitive prices
We started BK Tyres with the aim of providing a superior service and a good choice of tyres at a great price. And we reckon we've achieved that, with many customers commenting on our competitive prices.
Head on over to our tyre page and you'll see what we mean.
4. Over 5,000 tyres available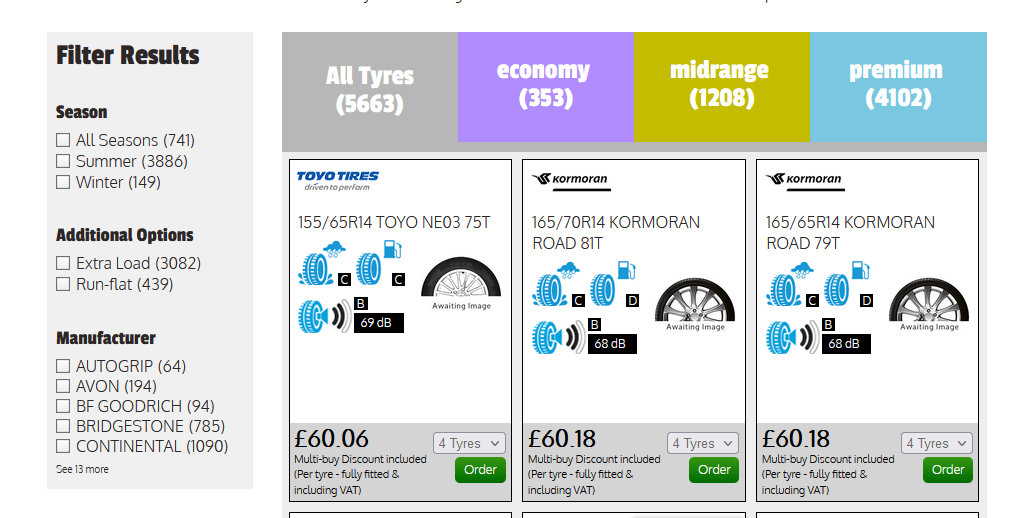 Speaking of a good choice of tyres, as we write this, we currently have 5,663 available, ranging from economical choices for runarounds to high performance tyres for committed petrolheads (and electronheads, if that's what you call electric vehicle enthusiasts).
Of course, many drivers couldn't care less about their tyre brand so long as it works and the price is right – but if you're into your tyres, it's a bonus to have a choice!
5. Family-run, independent company
We're not knocking the huge national chains, but many customers prefer to deal with a smaller, independent company. For one thing, supporting smaller businesses contributes to a vibrant local economy. Also, smaller outfits like ours live or die on the quality of service on offer… every customer is important to us.
If you're looking for a family-run, independent tyre fitter to sort your vehicle, that will be us!
6. We're as local as Agatha Christie!
What, you didn't know? Undisputed queen of crime writers Agatha Christie lived in Wallingford, where BK Tyres is based, for over 40 years.
For the last decade, we've been fitting tyres throughout South Oxfordshire, and we know the area like the back of our hands.
We're delighted to serve Henley-on Thames, Didcot, Abingdon and many other towns and villages, including: Benson, Berinsfield, Blewbury, Brightwell cum Sotwell, Checkendon, Chilton, Chalgrove, Chinnor, Cholsey, Crowmarsh, Gifford, Dorchester, Ewelme, Goring on Thames, Grove, Harwell, Long Wittenham, Sutton Courtney,  South Stoke, Streatley, Thame, Wallingford, Wantage, Watlington, Wheatley and Woodcote. Phew!
If you're not sure if we cover your area, it's always worth giving us a call.
7. We could also tell you about…
There are plenty more reasons to choose BK Tyres, including our services for puncture repairs, seasonal refits, caravan and motorhomes, tyre pressure monitoring systems, and more. But we're done blowing our own trumpets for now.
Need tyres fitting in South Oxfordshire?
We hope we've given you some resons to give us a try! Get in touch via our contact form, or call us on 01491835353.
The BK Tyres blog carries news, views and information on tyres and related subjects. BK Tyres supplies and fits tyres throughout South Oxfordshire, including the communities of Abingdon, Didcot and Henley on Thames. As an independent, family run mobile provider, we provide exceptional levels of service and affordable prices. Contact us today.