You've got a nail through a tyre, or the tyre is really worn, and it definitely needs replacing. Can you get away with changing just the one tyre? Some claim this just isn't a safe option – but are they right?
The problem with replacing a single tyre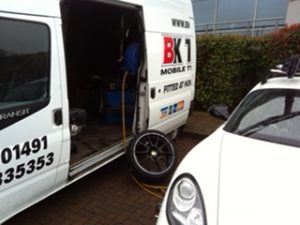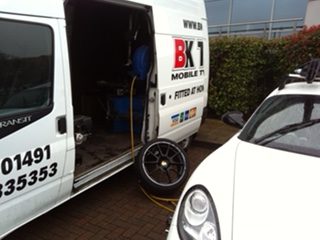 If you've damaged one tyre – or it shows excessive wear -why on earth would you need to replace any (or all) of the others? At first glance, this doesn't seem to make any sense. You might have the sneaking suspicion that it's some sort of scam to make you buy more tyres.
In fact, the argument against changing one tyre is a solid one. It's based on the fact that different tyres perform…well, differently.
If you put tyres with different characteristics at either end of an axle, it's likely to spell trouble. For example, if you put a tyre with excellent wet grip on the front driver's side, and one with much poorer grip on the passenger side, the results could be disastrous. At 30 mph in dry conditions, you might not notice any difference. But hit some standing water at 60 mph and the car might respond unpredictably. And it's this unpredictability that's the key problem with changing a single tyre.
How a tyre performs will depend on a great many factors: size, construction (e.g. radial, cross ply), seasonal type (e.g. summer or winter) and wear. With these in mind, let's look at some guidelines for replacing one tyre.
When you must change more than one tyre
You should never drive with different tyre sizes or constructions (e.g. radial, cross-ply) across an axle. This can make the vehicle dangerously unpredictable, and it's illegal. Likewise, you should never mix different categories of tyre across an axle (e.g. summer and winter tyres, on/off road tyres, run-flat and non run-flat). The only circumstances you should do this are if you're temporarily using your spare tyre, remembering that your speed needs to be restricted to 50mph.
Therefore, if you can't match the damaged or worn tyre's size and type, at the least, you must change both tyres on that axle. Note that it's also illegal to fit radial tyres to the front axle and cross-plies to the rear.
Wear and replacing single tyres
Let's say you've sourced a replacement tyre that matches the others. Now can you get away with replacing just one?
The answer is 'it depends.' One of the factors that greatly affects tyre performance is wear. What you definitely don't want is one tyre that is worn very differently to the others. That includes fitting a new tyre if the others have substantial wear.
A brand new replacement tyre with 8mm of tread depth may perform very differently to ones with, say, 4mm of tread. These differences are likely to be most evident just when you want the tyres to perform similarly – for example, in the wet, or during emergency braking. For this reason, if your tyres have any significant wear, it's always better to replace the entire set.
However a dose of common sense can help. If you damage one tyre two weeks after buying a brand new set, there's going to be little point in replacing more than one. Unless you've been tearing around the track, there just won't be any significant differences in wear.
Our standard recommendation is that in most circumstances, it's better to replace all of the tyres at the same time, and certainly better to simultaneously replace tyres across the same axle.
Easing the pain with multi-tyre discounts
Even though BK Tyres offer some very competitive prices, we realise that a full set of tyres isn't cheap. We also know that there are things you would rather spend your money on!
So to ease the pain a little, all of our tyres are offered with a multi-tyre discount. Buy two or more tyres from us and we'll discount each tyre by £10. Don't forget that wheel-balancing and fitting at your home or work is free!
The overall verdict
Apart from a few specific circumstances (see above), wherever possible, we recommend that you change all four tyres at the same time. If you're uncertain, ask our trained fitters for advice. We are dedicated to honest practice, and that means we won't ever recommend that you change more tyres than you need.
For more information, get in touch today.