So, you're googling tyre-fitting services in one of the counties we serve — Oxfordshire, Berkshire or Buckinghamshire — and you stumble across BK Tyres.
The site looks OK and you can see we have a big range of tyres. The logical next question is 'Is BK Tyres any good?' For example: do we know what we're doing? Are we going to show up when we say we will, give you good advice, and charge you a fair price?
Our website customer testimonials
The easiest way to check this is to look at other customers' experience. If you hop over to the home page, you'll see our testimonials displayed in a carousel format. These are comments that are submitted via our website or by email after a customer has used our services.
If you really have some patience and time on your hands, you could scroll through all 180 of them (at the time of writing), stretching back over the last 8 years.
Here's one recent testimonial that we think is representative:
Always a pleasure dealing with BK Tyres. Polite, efficient, helpful and well priced! Been a customer for a while and will continue to be moving forward.

Matt (2022)
And just to prove we didn't suddenly get good at customer service:
10/10 for super service and helpfulness. Thank you so much, even put front tyres on the back for me too. Would happily recommend you to others. Very reasonably priced too, cheaper than other mobile tyre fitters.

Sarah (2018)
What about other reviews?
Now, fair enough, testimonials published on any company website may not give a complete picture of how a company is doing.
For this reason, you should check sites where we have no editorial control over what's published. Google Reviews is one obvious choice. Here's how things stand in February 2022:

As you can see, the overall picture mirrors what's on our own site.
Our Google summary says that customers often comment favourably on our price and value and that we're competitive. But through some weird Google-logic, it misses out something which the majority of reviews also mention (and of which we're particularly proud ): great, friendly customer service.
For example:
Fantastic customer service, with prompt turnaround on booking and fitting. Very fairly priced as well. Glad I found the right company for the job after being let down so badly by others. Highly recommended and will use again. Thanks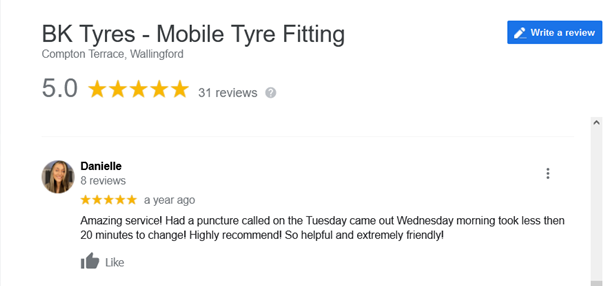 Amazing service! Had a puncture called on the Tuesday came out Wednesday morning took less then 20 minutes to change! Highly recommend! So helpful and extremely friendly!
There's plenty more where those came from, but that's enough to make our point.
Our customers say it for us
If you've never used our service, we hope we've shown you some reasons to give us a try. As you can see, our customers say that we're competitively priced, reliable, easy to use and offer a super-friendly service.
Like many family-run companies, we find tooting our own horn a bit uncomfortable — we're really grateful to our customers for leaving so many fantastic reviews. Thank you!
The BK Tyres blog covers a wide range of topics related to tyres and driving.
For mobile tyre repairs and replacement tyres at competitive prices, contact BK Tyres. We can fit tyres at your place of work or at your home in Oxfordshire, Berkshire or Buckinghamshire