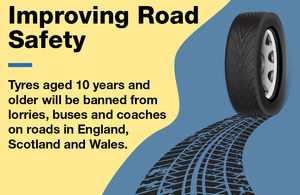 There wasn't much fanfare in the press, but last month saw the Government finally take an important step to improve the safety of our roads.
On 15th July, Roads Minister Baroness Vere announced that tyres that it will be illegal to fit "tyres aged 10 years or older to the front wheels of lorries, buses and coaches, and all wheels of minibuses."
Secondary legislation will come into force in the autumn which will "…also apply to re-treaded tyres – with the date of re-treading to be marked – making the age of the tyre clearly visible."
This is surely a move that every road user should welcome.
Why was the legislation introduced?
It's a depressing fact of life that it often takes a major tragedy before safety laws are improved.
In this case, it was a 2012 coach crash on the A3 in Surrey. The crash claimed the lives of three people, including the coach driver, and left others with life-changing injuries. It was caused by the failure of a 19-year-old tyre.
Following an inquest, the coroner wrote to the Government suggesting a ban on tyres older than 10 years for coaches and minibuses. The response was tepid: the Department of Transport updated the safety guidelines for public service vehicles. These recommended that tyres over 10 years old should not be fitted, but nothing was enshrined in law.
However, campaigners insisted that this was nowhere near enough. Frances Molloy — mother of 18-year-old Michael Molloy, who was killed in the crash — worked relentlessly to persuade the Government to ban old tyres. She was backed by powerful industry voices, including leading coach company National Express.
In response, the Government commissioned research into the role of age in tyre failure. The results confirmed that ageing tyres may suffer corrosion, leading to an increased chance of failure.
The official ban followed shortly after.
Should the legislation be extended?
You'll notice that the legislation only applies to lorries, buses, coaches and minibuses. It's not clear why the law doesn't extend to ordinary passenger vehicles, which make up the bulk of traffic on our roads.
Yet it could be argued that passenger vehicles are more at risk of age-related tyre failures than larger or commercial vehicles.
Think of it this way: tyres are usually replaced when the tread becomes too low. As commercial vehicles cover huge distances, in most cases their tyres wear out long before they become dangerously old. Of course, the 2012 crash tragically showed that doesn't always apply — hence the need for the new law. However, it seems likely that there are far more old tyres still fitted to ordinary passenger vehicles.
Just like commercial owners, private car owners usually replace a tyre when the tread becomes too worn. And even though most car drivers don't clock up the sort of miles seen on commercial vehicles, for most of us that's still going to happen well before the tyre is ten years old.
However, that leaves tens of thousands of UK passenger vehicles that cover extremely low mileages. Their owners may include older people, those who usually rely on public transport, or those who have an additional car that does most of the work.
Some of these owners may inspect their tyres, see that there's plenty of tread left, and conclude that it remains perfectly safe. They may be completely unaware that tyre ageing still occurs even if the amount of wear is low. And even if they do know, only 17% of people know how to check the age of their tyres.
All in all, there does seem a case for extending this new legislation to passenger vehicles.
We'll have more to say on this next time, when we'll be looking at:
why low-mileage drivers are even more at risk from ageing tyres
the likely penalties for driving with old tyres
how you can check the age of your tyres.
Stay tuned!
The BK Tyres blog carries news, views and information on tyres and related subjects. BK Tyres is a supplier and fully mobile fitter of tyres throughout Oxfordshire, Berkshire and Buckinghamshire. Contact us today.