Many of our customers are looking for a great all-season tyre — something that performs really well in a wide range of conditions and represents good value for money.
A few weeks back, we mentioned that the Continental All Season Contact was an excellent choice. However, there are some other fantastic options too, and top of our list is the Goodyear Vector 4Seasons Gen 3.
As one of the biggest players on the market, Goodyear has all the resources needed for continual innovation. With the Vector 4 Seasons, the company  has employed some trick technology for improved performance.
Firstly, the Gen3 tyre uses 'Dry Handling Technology', which in practice means a stiffer tyre construction, with strong crown and shoulder blocks. This results in less deformation of the tyre when it is exposed to stresses during cornering and braking. The upshot of all this, says Goodyear, is improved dry handling and braking.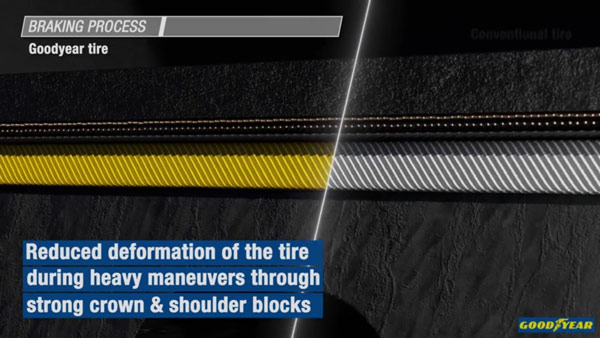 Secondly, the Generation 3 employs 'Aqua Control Technology' (tyre companies love to give their new developments An Exciting Name Using Capitals!). This aims to tackle the problem of increased aquaplaning as a tyre ages.
To explain this: as tyres wear, the grooves which disperse water start to disappear. This makes them prone to aquaplaning, where the tyre 'skates' over a thin layer of water, reducing braking and cornering performance. Goodyear's new system means that the grooves evolve, rather than disappear, as the tyre ages. Their internal tests on a VW Golf confirm that the new tyre keeps its wet performance better than the Generation-2 tyre.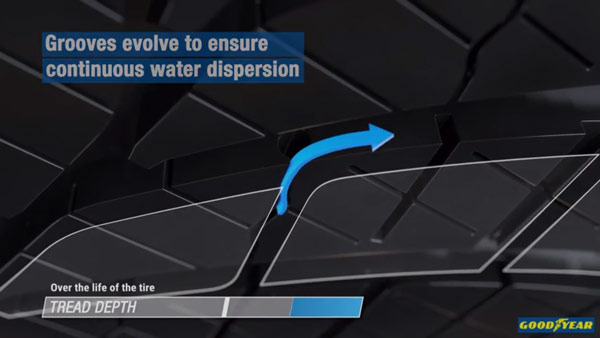 What do the reviews say?
This all sounds great in theory, but how does the tyre perform in the real world? And just as importantly, how does it compare relative to its competitors?
To find out, we looked at two independent tyre reviews carried out by respected sources: tyrereviews.com and autoexpress.co.uk. When these guys test a tyre, they don't mess around: tyres are tested every way imaginable. Take a look, for example, at some of the comparisons made byTyre Reviews:
Dry braking
Dry handling
Subjective dry handling
Wet braking
Wet handling
Straight aqua
Curved aquaplaning
Snow braking
Snow traction
Noise
Rolling resistance
(…and that's not the complete list!)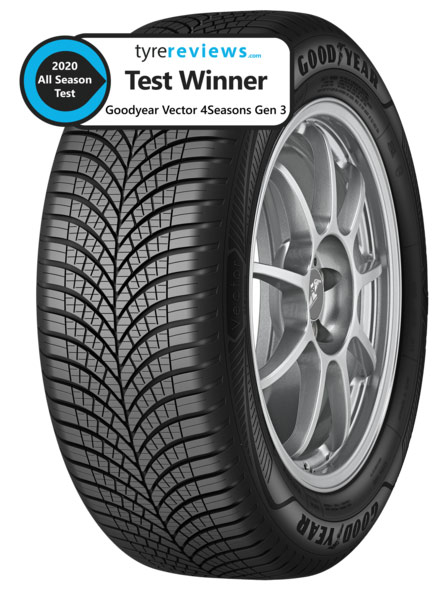 The results from these two tests are pretty convincing.
The Goodyear came first in Tyre Reviews' 9 of the BEST All Seasons Tyres for 2020. Their verdict was,
"Good in the dry, excellent in the wet, excellent in snow, lowest rolling resistance on test and good levels of comfort."
Also, the tyre offered the best fuel economy of all the tyres tested.
In the Auto Express test, the Goodyear was edged out of first place by the Continental All Season Contact, but placed ahead of the other four high-quality brands. The reviewers commented that "… the Vector 4Seasons had good performance in poor conditions and improved economy."
These tests weren't really able to test Goodyear's Aqua Control Technology, as this would have required the tyres to wear down over thousands of miles. Nevertheless, it looks pretty promising, and Goodyear's own tests suggest it's an improvement over the previous version.
BK Tyres sell the Goodyear Vector 4Seasons Gen 3 at a competitive price, and don't forget that we offer all the convenience of having the tyres fitted at your home or place of work.
The BK Tyres blog carries news, views and information on tyres and related subjects. BK Tyres is a supplier and fully mobile fitter of tyres throughout Oxfordshire, Berkshire and Buckinghamshire. Contact us today.