If tyre performance is your absolute top priority, and you need a tyre capable of extreme speeds, what do you choose?
That was the question considered by the experts at Tyre Reviews – one the most respected sources for objective comparisons of tyres. A few weeks ago, they published their first test of Ultra Ultra High Performance (UUHP) tyres.
Tyres that go beyond high performance
Ultra Ultra High Performance may sound like a marketing invention, but it actually refers to a particular category of tyre: as Continental Tyres explain, they're tyres sized from 19 to 23 inches, that can deal with speeds in excess of 360 km/hr (223 mph).
Now, obviously there are very few cars capable of even approaching those speeds. But there are a few, such as very high performance sports cars and cars that have been modified to beyond their original specifcations.
When drivers want to be able to push their cars to the maximum — on track days, drag races or on unregulated stretches of the Autobahn — they really need a tyre that's designed for those demands. That's where UUHP tyres come into their own.
However, not all drivers who choose UUHP (or just UHP) tyres fit into those categories. They're also used by drivers with high-performance cars who want tyres to match — even if their vehicles can't manage 200 mph.
So what is the best of the best in UUHP tyres?
Tyre Reviews puts Goodyear on top
Owned by tyre guru Jonathon Benson, Tyre Reviews carries out some of the most comprehensive tests available. The site is a great resource for consumers.
During the Summer, Joanthon made use of Continental's test facility in Texas. Using a BMW M2, he put eight UHP and UUHP tyres through their paces. The tests included dry and wet handling, dry and wet braking, aquaplaning, rolling resistance and noise levels.
If you've a spare 16 minutes, we recommend the video showing of the tests (see below). Alternatively, visit the site for a more detailed review. But cutting to the result, Tyre Reviews declared a clear winner in the Eagle F1 SuperSport. The tyre performed well across the board, delivering "great steering feel and balance, whatever the conditions." However, it was the Goodyear's behaviour in the wet which put it well ahead of the competition. The Eagle FI showed great grip in wet conditions and offered neutral balance between front and rear.
Developed for two of Porche's mightiest cars
It's small wonder that the Goodyears performed so well: the tyres were developed for two of Porsche's fire-breathing monsters, the legendary GT2 and GT3.
According to Tire Technology International,
The brief for the Eagle F1 SuperSport RS was to develop a tire with track performance. Porsche Motorsport required tires capable of predictably and exploitably transmitting 700hp and 750Nm through the rear wheels, with peak torque from just 2,500rpm, transferring power into straight-line and cornering performance.
That sort of design brief was certain to produce an exceptional tyre!
Should you consider the Goodyear Eagle Supersport F1?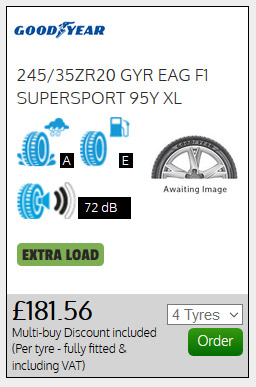 The Goodyear Eagle F1 Supersport is definitely a tyre for a select group. Its design is uncompromising, and the cost of all that grip is a high rolling resistance. And its other cost is, well… cost. As you would expect, all that research, knowhow and high-tech materials doesn't come cheap.
However, at BK Tyres we can offer these amazing tyres at competitive prices. Just select Goodyear tyres from our stock, type in your tyre dimensions and look for 'GYR EAG F1 SUPERSPORT' in the codes.
The BK Tyres blog carries news, views and information on tyres and related subjects. BK Tyres is a supplier and fully mobile fitter of tyres throughout Oxfordshire, Berkshire and Buckinghamshire. Contact us today.